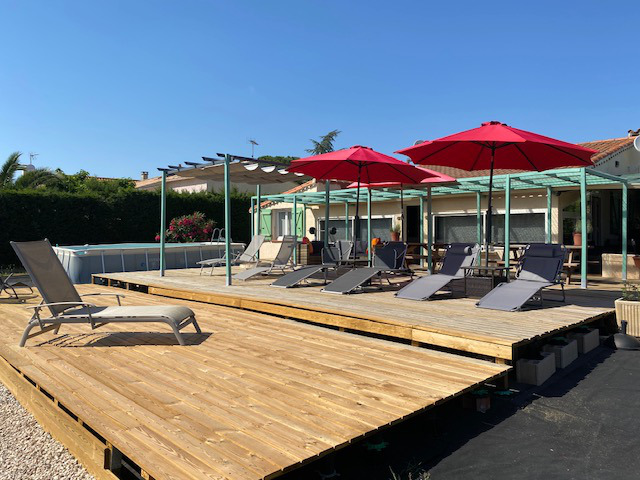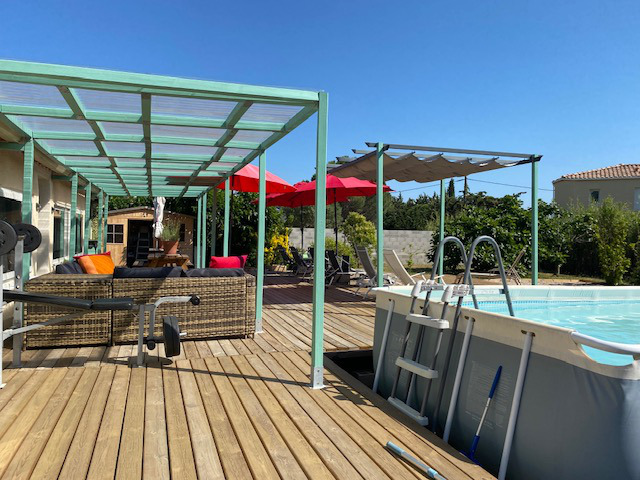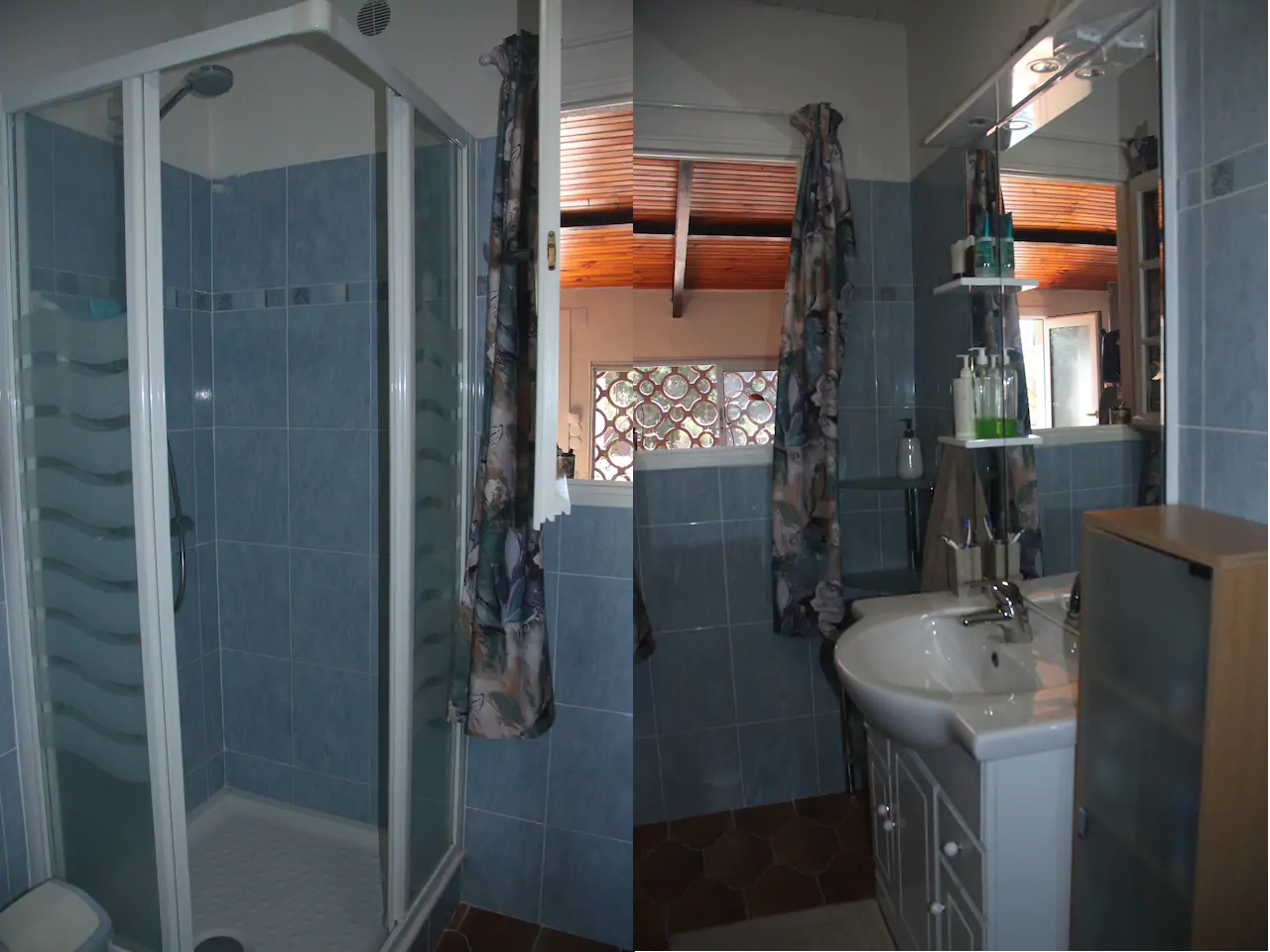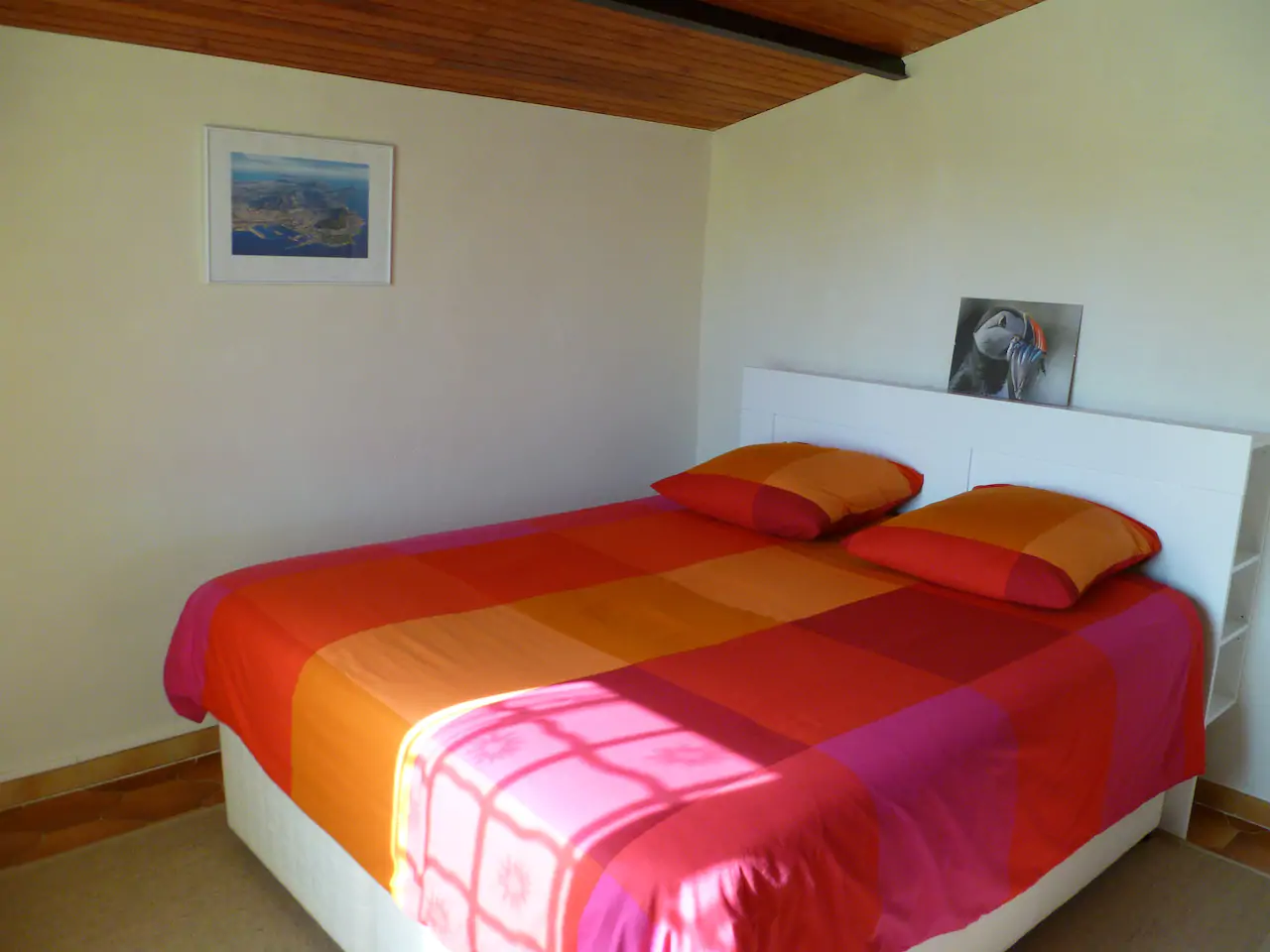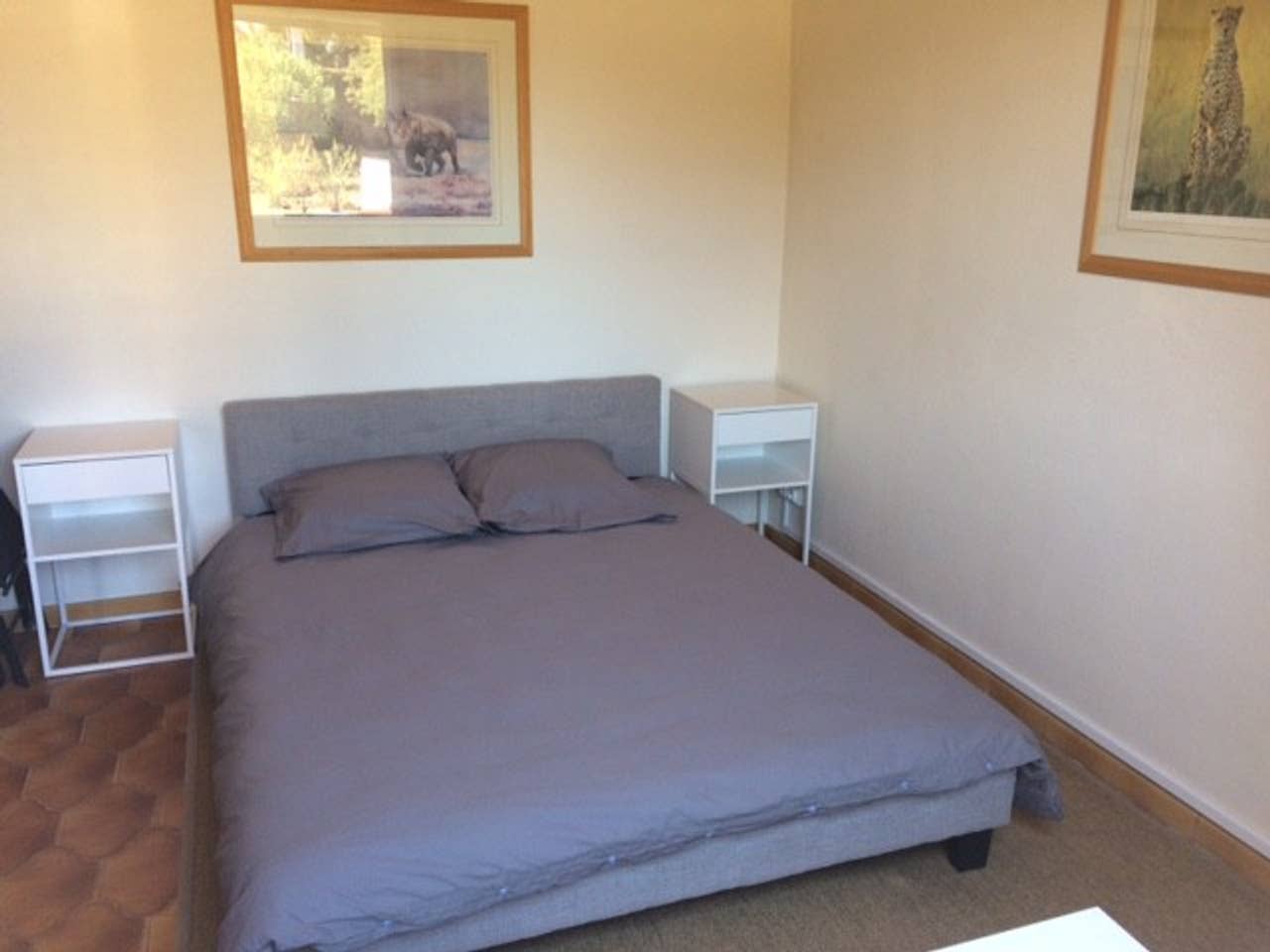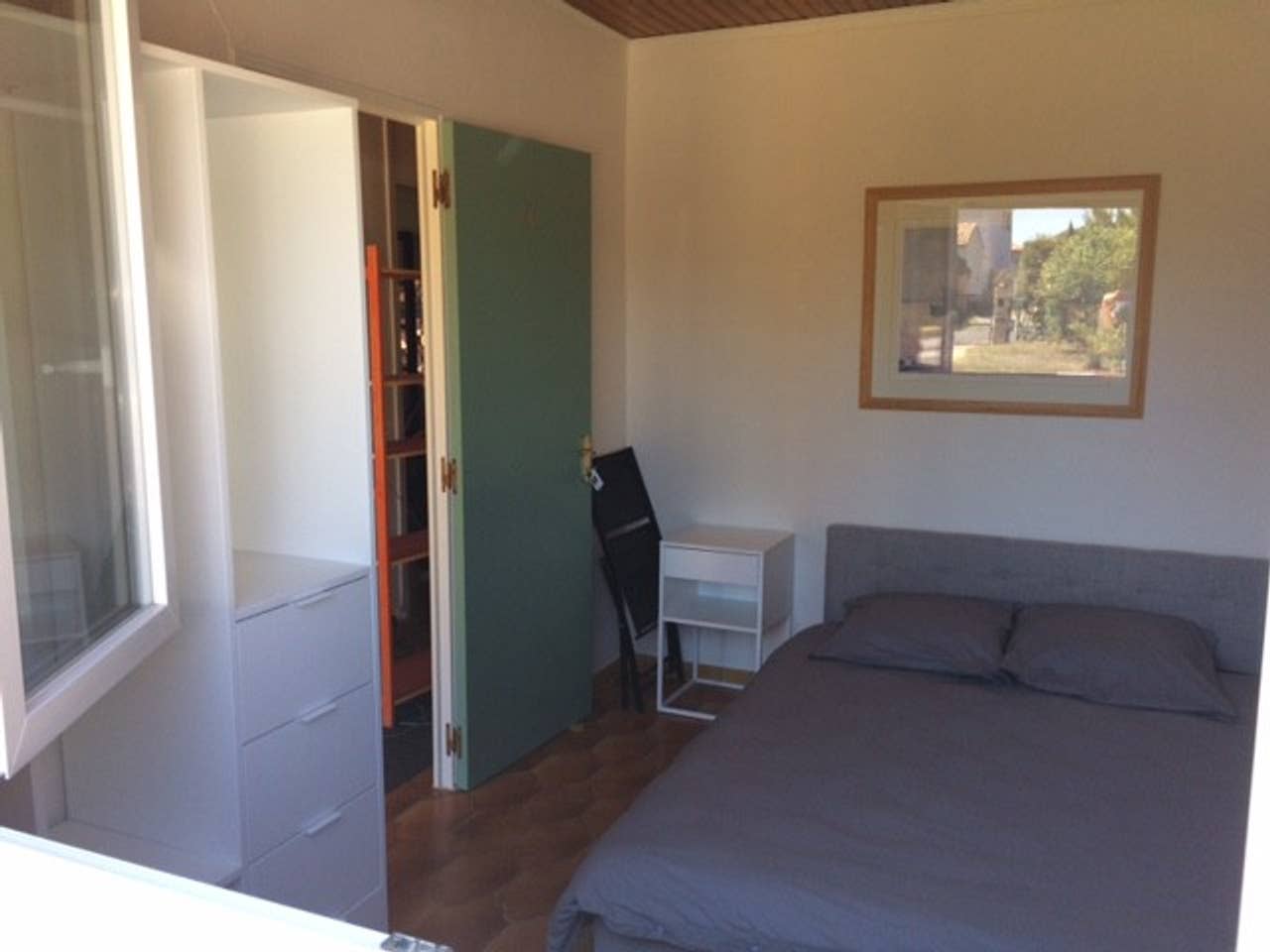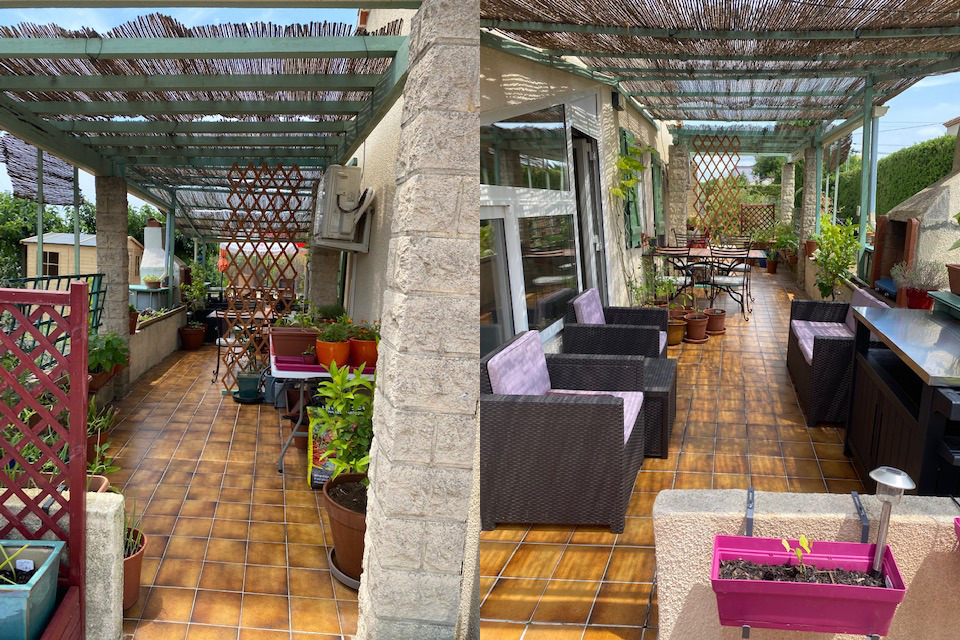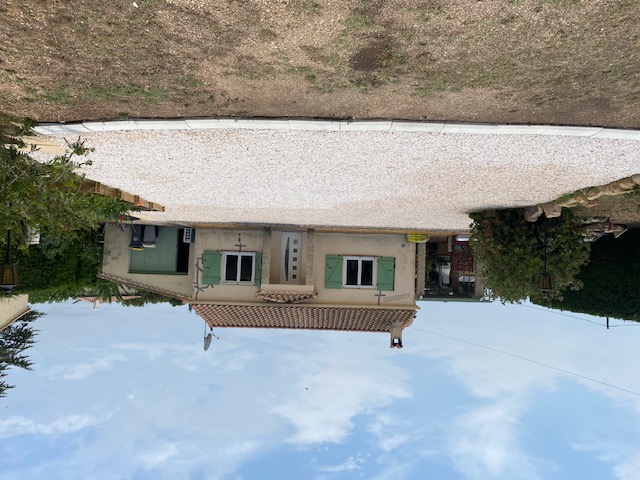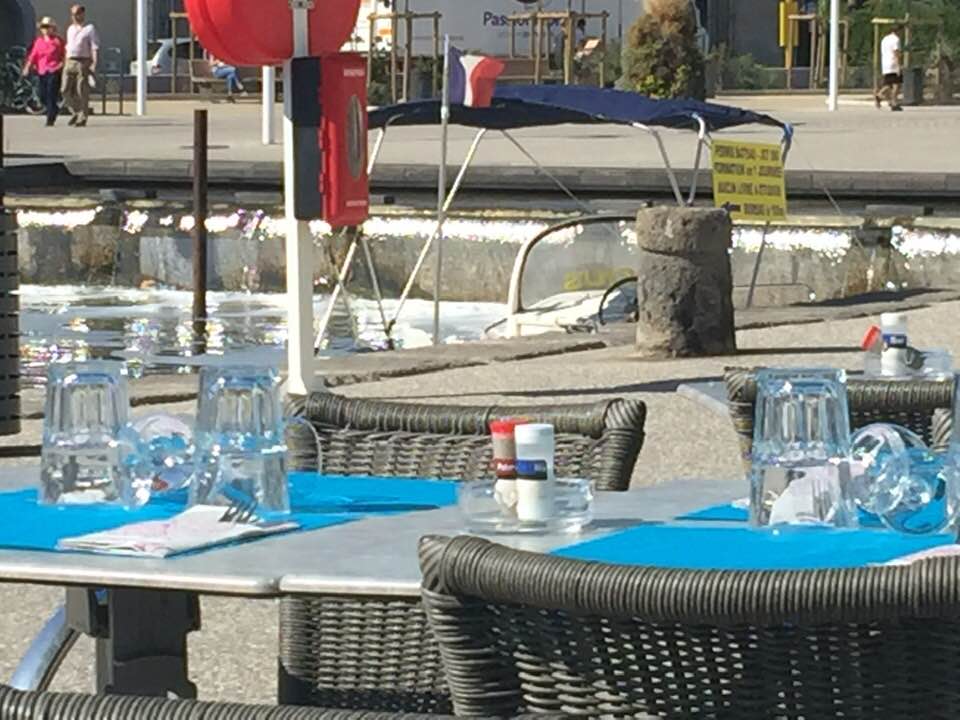 Guest House - Maison d'Hôtes
Steve and Phill left London and moved to France at the end of September 2014. We had a dream of finding a suitable property near to the delightful and historic city of Montpellier. In February 2015 we found a lovely property in Les Mougères, Marseillan. We bought the house and moved in on 20 June 2015. The house and garden required a lot of work. Eight years later, most of the work has been completed. We have two guest rooms - the Cloaca Room and the Africa Room. Both rooms have reversable air conditioning/heater units.
---
Steve et Phill ont quitté Londres et ont déménagé en France le fin de septembre 2014. On rêvait de trouver une propriété convenable près de la charmante et historique ville de Montpellier. En février 2015 on a trouvé une belle propriété aux Mougères, Marseillan. On a acheté la maison et a déménagé le 20 juin 2015. La maison et le jardin ont demandé beaucoup de travail. Huit ans plus tard, la plupart des travaux sont terminés. On a deux chambres - la chambre Cloca et la chambre Afrique. Les deux chambres ont un clim.
Local Information - Information Locales
If you love food and wine, Marseillan is perfect for you. Marseillan is actually three towns, Marseillan Ville, Les Mougères, and Marseillan Plage, each about 2km apart.
Marseillan Ville has a port on the Étang de Thau which is famous for its mussels and oysters. It is also the home of Noilly Prat vermouth. There is a market every Tuesday morning. There is a choice of restaurants at the port and in the town.
We live in Les Mougères which lies between Marseillan Ville and Marseillan Plage. It is well served by cycle routes to nearby towns. The number 9 bus runs hourly between Marseillan Ville and Sète from April until September. The bus stop is a 5 minute walk away.
Marseillan Plage is on the Mediterranean Sea. It has a selection of bars and restaurants. It is a 20 minute walk along the beach to Cap d'Agde's naturist village and beach.
---
Si vous aimez la nourriture et le vin, Marseillan est parfait pour vous. Marseillan est actuellement trois villes, Marseillan Ville, Les Mougères, et Marseillan Plage.
Marseillan Ville a un port sur l'Étang de Thau qui est célèbre pour ses huîtres et moules. C'est aussi la maison du vermouth Noilly Prat. Il y a une marché le mardi matin. Il y a un choix de restaurants au Port et dans la ville.
On habite aux Mougères entre Marseillan Ville et Marseillan Plage. Il est bien desservi par des pistes cyclables vers les villes voisines. Le bus numéro 9 circule toutes les heures entre Marseille Ville et Sète d'avril à septembre. L'arrêt de bus est à 5 minutes à pied.
Marseillan Plage est sur la mer Méditerranée. Il dispose d'une sélection de bars et de restaurants. Il se trouve à 20 minutes à pied de la plage et du village naturiste du Cap d'Agde.
Other Things - Autres Choses
We are 25 minutes from Béziers Cap d'Agde Airport and 15 minutes from Agde TGV/RER train station by car or taxi. Cap d'Agde and other Mediterranean beaches are a few minutes away by car. The Canal du Midi passes close by. We are surrounded by vinyards, many of which do wine tasting and some have restaurants.
Free high speed WiFi is available in the house and garden.
We are bicycle friendly. Bicycles can be stored securely in our garden or garage. We have two bicycles for rent on a daily basis. There is also a bicycle hire and repair shop in the town.
---
Nous sommes à 25 minutes de l'aéroport de Béziers Cap d'Agde et à 15 minutes de la gare TGV/RER d'Agde en voiture ou en taxi. Cap d'Agde et autres plages méditerranéennes sont à quelques minutes en voiture. Le Canal du Midi passe à proximité. Nous sommes entourés de vignobles, dont beaucoup font la dégustation de vin et certains ont des restaurants.
Une connexion Wi-Fi haut débit gratuite est disponible dans la maison et le jardin.
Nous acceptons les vélos. Les vélos peuvent être rangés en toute sécurité dans notre jardin ou garage. Nous avons deux vélos à louer quotidiennement. Il y a aussi un magasin de location et de réparation de vélos dans la ville.
Booking - Reservation
To make a booking, visit the following websites or send an email to contact@aux-quatre-vents-france.fr.
---
Pour faire une réservation, visitez les sites Web suivants ou envoyez un courriel à contact@aux-quatre-vents-france.fr.
---
Cloaca Room - AirBnB
Cloaca Room - MisterBnB
Africa Room AirBnB
Africa Room - MisterBnB
The Journey
Follow the links at the top of the page to read about our journey moving to France and our experiences living in France. It contains useful information for those planning to move to France and purchase a property.
We also have an interview article published in France Property Guildes.